A little while ago I purchased a refurbished iMac i7 to replace my aging iMac 20-inch. My last four Macs have been refurbished models. The 27″ screen is amazing. The size allows me to have two full page windows open and viewable at the same time. I only have 4 GB of RAM for now, which should be plenty for what I do, but 8 GB couldn't hurt.
I initially was using the wireless small keyboard with the Magic Mouse, but have recently changed back to a more traditional set-up. I now use a wired Apple full-size keyboard and a Logitech M500 corded mouse or a Kensington Expert Mouse trackball. I prefer the full-size wired keyboard with number pad. The Magic Mouse works great, nice feel and responsive to Multi-Touch but was a bit twitchy at times on some web sites I visited and would occasionally lose the bluetooth connection. Battery life was not a big deal since I used rechargeable AAs and would monitor remaining charge. But I did grow tired of that and wired components don't bother me and I never have connection issues.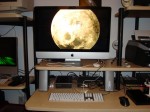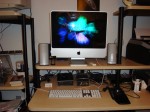 See a more complete computer history under About tab.